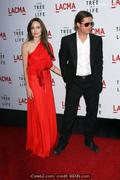 Angelina Jolie and Brad plans to buy house in Costa Rica and wants to spend their christmas there.
The Sun reports, "Brad has found a sprawling farm that he reckons will be the perfect place for the family to get away from everything for a while."
"He loves the country and is considering buying some Costa Rica property so they can spend some time there when life gets less hectic for them."
Source