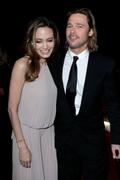 She was emotional when she was filming In The Land Of Blood And Honey.
Her partner, Brad gave his support to her. She said, "Brad has stood by me every step of the way."
"He took charge of the kids while I was away filming and was always encouraging me and telling me not to doubt myself."
"Just before I started doing Press for the film, I came home and started crying in Brad's arms because all my doubts and fears suddenly resurfaced. And I'm someone who very rarely cries."
Source